Basics
Full Name:
Sakushi Omoyashi
Meaning of Name:
Illusion Burning
*Nickname:
N/A
Sex:
Female
Human Appearance
Age:
19
Eye Color:
Crimson Red
Hair Color:
White
Type of Build/Body:
delicate and fragile in appearance it's deceptive
Height:
5'11
Weight:
145lbs
Distinguishing Marks:
None
Traits
Skills:
Sakushi's Branch of sin is unknown....
Attitude/Personality:
Gentle sweet innocent, sugar and spice and...........absolutely
nothing
nice. Sakushi is the sort who comes across as sweet and loving and caring. Warm and affectionate......all the while she's looking for the place to stick you in the back. A master at lies and deceit she should be in Deadman wonderland with her brother and she knows it.........Sakushi takes great pleasure in watching his struggles and laughing from the outside figuring he'll never get out..........and never get to her.
All the while the pile of corpses she's sitting on is growing and growing..........and she's.........getting away with it....
Images For character: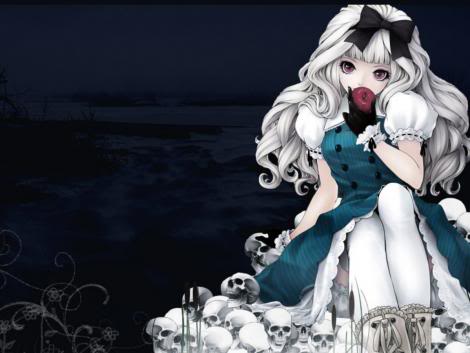 Background
History:
Imprisonment Arc: Professor Yamamoto was supposed to be the pioneer in behavior modification. Supposed to be. However, no one could have guessed that his prized project would end in chaos.
Yamamoto had used his own son in the Hansel project, and after becoming a 'success' of the project, his son was paired with his Gretel. Unfortunately for his son, Yamamoto was not only a rich, world famous scientis, he was also a heavy drug user and alcoholic. As was his wife.
From a young age, Yamamoto's son and twin sister were sold to underground sex traders and these men or women were given as many hours or days that they paid for to spend with the young children. Sick of the torment, Yamamoto's son flew into a rage, marred by his father's 'punishments', he saved his twin sister and killed every one of the lab's workers. In what was believed to be their final moments, the twins were watching the house they survived horror after horror in, burn down to the ground and watched as the lab exploded, killing off what the son had thought to be the last he would ever hear of his father's final project.
That was nine years ago.
Although Sakushi didn't protect him after the great earthquake when they were taken in she cried and cried to the cops telling them she didn't know why Kaze did what he did. That they had a good and loving family but he started getting weird and having even more twisted thoughts. That he had cut up his own face and burned his neck screamed and screamed and there parents took them to a hospital that was no longer there thanks to the quake. But Kaze instead of getting better got worse and worse until he killed them whispering to her the entire time that he'd protect her from them from all of them no matter how much
she
begged and pleaded with him terrified for her own life for theirs that what he was doing was wrong. They tried him........10 counts of murder in the first degree against there parents. 10 counts of murder in the first degree against there older brothers and sisters. And various forms of abuse against Sakushi herself. The ending sentence as she watched............her brother was sentenced to 10 death sentences without the possibility of survival......Sakushi head her face behind the handkerchief big false tears falling down her face and as they took Kaze past her when no one else was looking she..........smiled at him laughing silently at his fate.....The look of burning hate was amusing to her.
Being used and abused all of her life.....she became a twisted little thing who covered everything with sugar and sweet lies....that were believable.
Deadman Arc: Sakushi went back to school and while she figured he would be going through his first rounds of torture to be executed she began collecting her victims one by one no one saw her gather them no one saw her take them she has a place each one is gathered where nothing but there skulls remain almost like a throne of the dead for her to sit on. Each death she whispers in the victims ear. 'Die knowing......they put the wrong Omoyashi in that deadman's show.'
Carnival Corpse Arc: Sakushi has worked her way up in society making it to the higher elites and getting in on the private showings of the Carnival of Corpses something that she should not be happy to see but the one she is close to told her he was pretty sure her twin was one of the top Deadmen in the carnival and it was only a matter of time before he met his end. Sakushi goes now with him to see it whispering that she wants nothing more then to see the monster that took place of her beloved twin be put to rest so that the sickness eating away Kaze is finally ended.....in truth she goes so she can see the day he dies and the last piece of the puzzle that holds her back...........be removed forever.